Join us on Tuesday 28 November to hear from Georgina Woudstra and Allard de Jong.
Time
:
13:00-14:00 (Timezone: Europe/London)
Price

: £35 Incl VAT (FREE to Coaching Centre Members)
Description
Each year The Henley Centre for Coaching strives to fill our calendar of events with industry-leading thinkers and topics. To ensure our webinar series delivers content that's challenging, thought-provoking and relevant to the current environment in which the coaching community is working, we've provided an outline of the session and a general theme to be covered on the day, whilst we allow our speakers freedom to adapt the content based on the changes and challenges that arise in the run-up to their event.
Closer to the live date we will announce a full event description though, in the meantime, we hope that the speaker and webinar title piques your curiosity and gets you excited to join the session.
Who should attend?
All coaches or leaders who are curious and excited team coaching.
Georgina Woudstra & Allard de Jong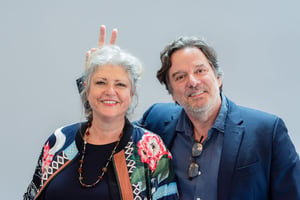 Georgina Woudstra
The first 10 years of Georgina's career were entrepreneurial, starting, leading and growing diverse businesses. A tech consultancy firm she was building led her to undertake a master's degree in change management, which is where she first heard about coaching.
Georgina specialises in coaching CEOs and senior leadership teams, but team coaching is her huge passion. She believes that teams need to work together brilliantly for their organisations to thrive – today and in the future. Georgina is a global advocate, leader and shaper in the coaching profession in the field of team coaching and has also published on the topic: Mastering the Art of Team Coaching: A Comprehensive Guide to Unleashing the Power, Purpose and Potential in Any Team (Team Coaching Studios Press, 2021).
Allard de Jong
From day one, Allard's coaching has focused on leadership development in large organisations. His work with clients centres on one or more aspects of emotional intelligence, rather than on functional skills. Given the volume of recent research proving its effectiveness, he is especially thankful for the opportunity to transfer his coaching skills to clients and see them adopt the coach-approach as part of their leadership toolbox. Thanks to his language skills and cross-cultural background, he has been able to work in five continents, from Asia Pacific to Africa.
Membership
Did you know, members of The Henley Centre for Coaching receive webinars (circa. 10 per year) free of charge as part of their membership?
To find out more and to purchase membership visit The Henley Centre for Coaching web page.